Sri Sri Cancer Care, a unit of Sri Sri College of Ayurveda Science and Research Hospital is an initiative of Sri Sri Ravi Shankar Vidya Mandir Trust. With a perfect blend of modern diagnostic facilities and traditional ayurveda treatments, the hospital offers wide range of extension programs and facilities for the comfort and well-being of visitors and inmates. The modern state of the art diagnostic facilities, expert consultants, specialist doctors and support staffs has made Sri Sri Ayurveda Hospital truly a world class center in the ancient and time tested science of Ayurveda.






Essential Facilities At Our Hospital

265+ Beds
Different categories of accommodation facility available for a comfortable stay at the hospital during the treatment.

X-Ray, ECG, USG
X-Ray, ECG, Ultrasonography facility at our hospital give us an edge when it comes to case-to-case treatment options.

Laboratory
With a commitment to providing quality diagnostics, Our laboratory is integrated with auto analyzers for accurate results.

Supportive Therapies
Wide range of natural and supportive therapies are offered for holistic healing.

Panchakarma Theaters
We have 37 panchakarma theaters with traditional equipment and modern facilities.

Operation Theaters
We have 2 full-fledged major operation theaters with monitoring devices.

24/7 Emergency
We have 24/7 pharmacy, ambulance services and casualty care facility.

Expert Consultants
Team of expert consultants and specialists for holistic care and preventive measures.
Sattvic Food
Canteen and Tattvam Cafe for sattvic food and special diet as per doctor's advice.
About Sri Sri Ayurveda Hospital
Sri Sri Ayurveda Hospital is accredited under NABH for patient safety and quality of care.
Along with holistic treatment for Cancer, more than 100 Ayurveda Treatments are provided at our hospital.
Spread over area of more than 1 lakh (100 thousand) square foot, we have super specialty clinics in each branch of Ayurveda.
Department specialized treatment rooms connected with WiFi, Telecommunication and Public Address System.
Specialized diet food, yoga and meditation hall, and a traditional Dhanawantri temple.
Located on the hill-top, in the midst of serene environment, we have an organic garden where we grow medicinal herbs  which are rare to be found.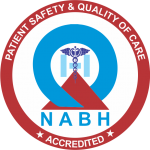 Sri Sri College of Ayurvedic Science and Research Hospital is accredited by NABH for patient safety and quality of care.