Fill the appointment request form to schedule an appointment with our doctors
Please fill the form below with relevant details and supporting medical records. On receipt of your details, our back-end team will evaluate the details and get back to you with a schedule of an appointment with our expert consultant. 
Please note that the medium of communication would either be in general English or Hindi. If patient or guardian requires translation assistance for communication, we request to accompany with a translator while communicating with our doctors.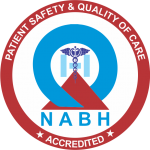 Sri Sri College of Ayurvedic Science and Research Hospital is accredited by NABH for patient safety and quality of care.